In the Medicare Part D world, when everything is in sight, you are one step ahead.
The One Ark™ Suite provides you with the necessary tools to actively manage your Medicare Part D Benefit. You will gain exclusive visibility of the benefits and requirements that are aligned for the care of your beneficiaries.
Take your first steps into your new PBM with PharmPix.
PharmPix provides an integrated solution
for managing Medicare Part D.
We know that managing Pharmacy Benefits and creating cost-effective Pharmacy Benefit Programs that are compliant with regulations but yet balance access to care for beneficiaries takes a lot of details to plan and execute.
Medicare Part D plans are challenged to manage a wide variety of processes efficiently in order to provide high quality health services to beneficiaries, control costs, and comply with CMS regulations. Accuracy and proper turn-around time shape the results of Prescription Drug Event (PDE) reports and reconciliations, member communications, Plan Finder submissions, and other reports and reconciliations. Medicare Part D plans need these highly regulated processes to be effectively controlled and monitored to meet high standards and help ensure success with an increasing number of CMS audits for Part D plans.
The OneArk™ Suite for Medicare Part D Plans is designed to give Plan Sponsors the ability to have active engagement into managing your Part D Pharmacy Benefit Program in a manner to that is clearly VISIBLE. PharmPix has aligned the operational and compliance elements in a precise manner so Plan Sponsors can have CLARITY on how the Part D benefit is administered to inspire trust and confidence. We have built the OneArk™ Medicare system in a planned and deliberate manner with the interest of the Plan Sponsor in mind.
We have turned our experience and expertise into Innovation to help Plan Sponsors ease the oversight process so that the Pharmacy and Operations teams can focus on activities that are more meaningful to impact patient care.
We understand the complexity of managing the growing Medicare Part D population.
Backed by a versatile technology stack and an industry-leading clinical team, PharmPix clients enjoy the capability and guidance of a pharmacy benefit partner fully invested in plan success. PharmPix has placed all of these key features, that many of our competitors have coded behind the scenes, in easily accessible modules to allow the ease of benefit administration for Part D Medicare Plan Sponsors.
Ease the time it takes to conduct Medicare Part D oversight responsibilities
Master the complexities of Medicare Part D
And the tools to have comprehensive system-driven compliance management
A few key highlights of the One Ark ™ Medicare solution include: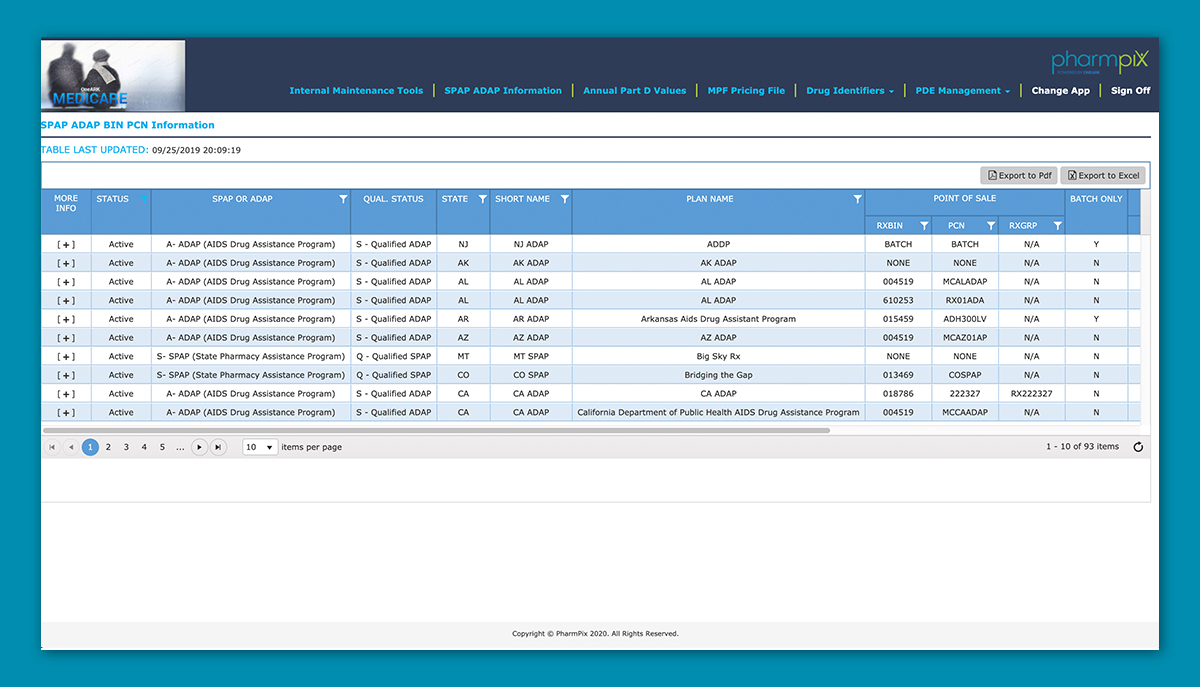 SPAP ADAP Information Module
This module provides key reference information for coordination of benefits with State Pharmaceutical Assistance Programs (SPAP) and AIDS Drug Assistance Programs (ADAP) to ensure proper True Out of Pocket (TrOOP) tracking. The OneArk™ system provides a viewable reference of known SPAP and ADAP programs to determine when payments made by a qualified third party on the beneficiaries' behalf are properly applied to TrOOP. This allows for easy reference and access to this information for plan sponsors to be assured that the information for these other payors is adjudicated correctly and reported in the prescription drug event (PDE) or PDE record per guidance.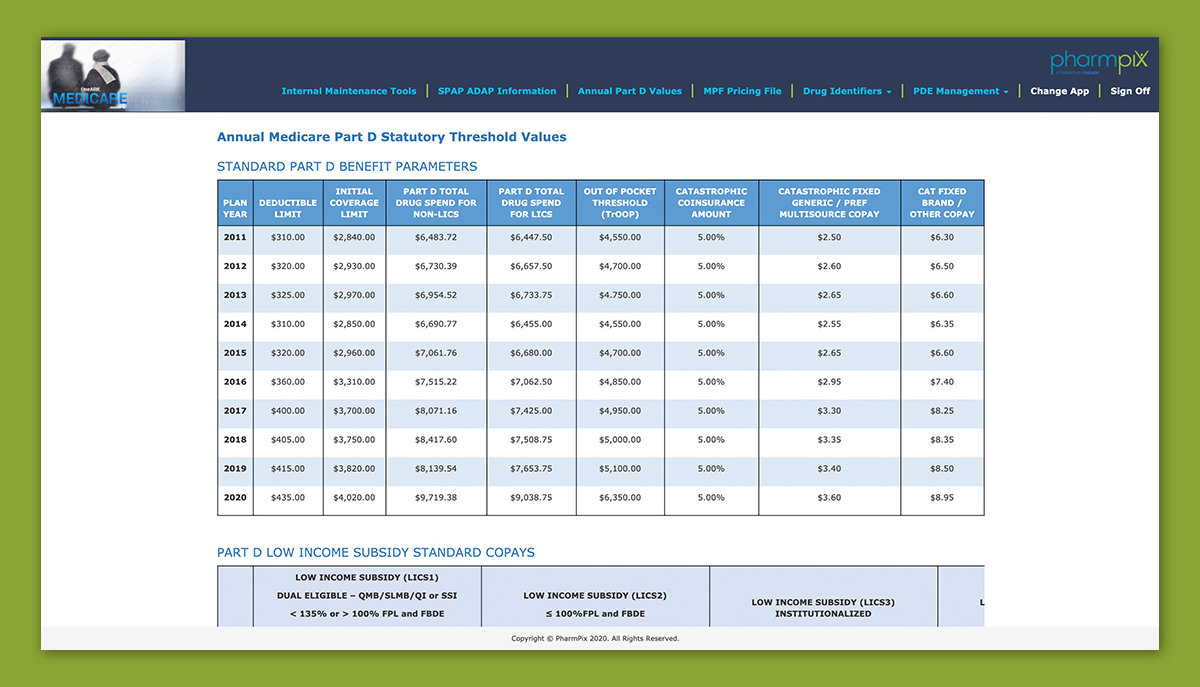 Annual Part D Values Information Module
This module provides a reference for Plan Sponsors to the annual statutory values that are essential in the calculations for the Medicare Part D benefit. In doing so, this module brings visibility to the system for all of these values so that Plan Sponsors can be assured that the basis for all of their plan reimbursements and PDE value submissions to CMS can be easily reviewed and validated by the Plan Sponsor for accuracy.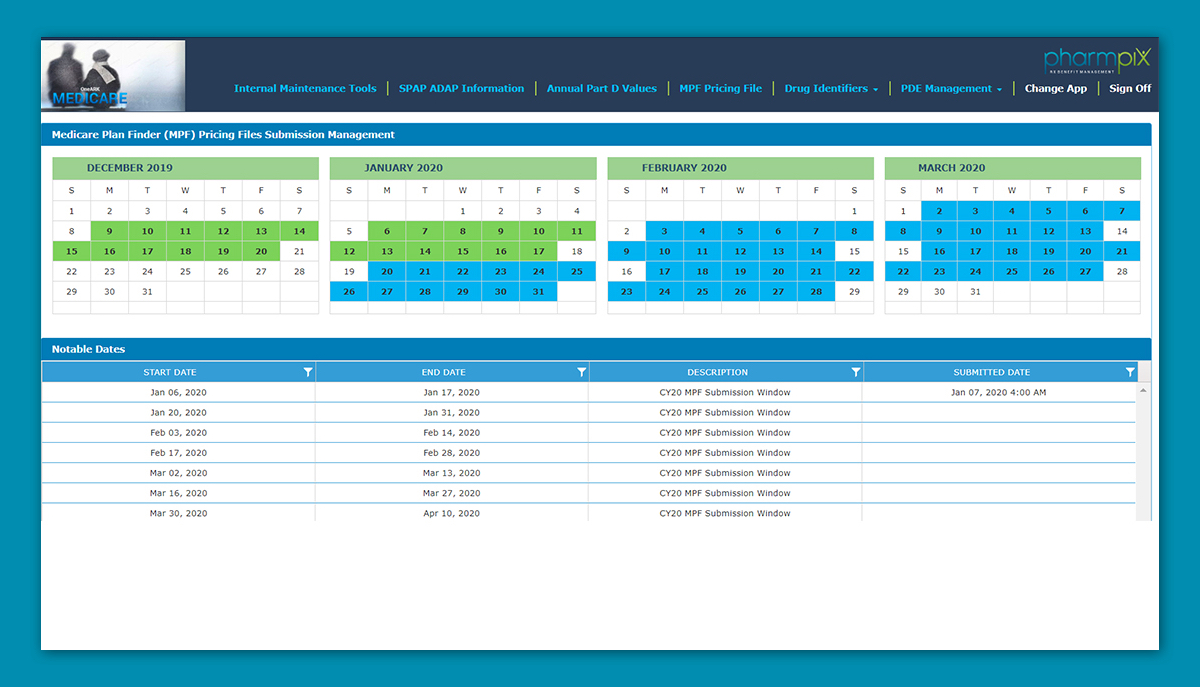 MPF Pricing Module
Also known as the Medicare plan finder or the pricing file submission module, this module provides real time compliance for Plan Sponsors to know their files have been successfully submitted and accepted.    This module serves as a visible compliance tracker to validate and track the routine submissions of the price finder files. PharmPix also completes an intensive series or pre-submission audits to ensure accuracy and quality of the Pricing file submissions as we understand the critical importance of these files to Plan Sponsors.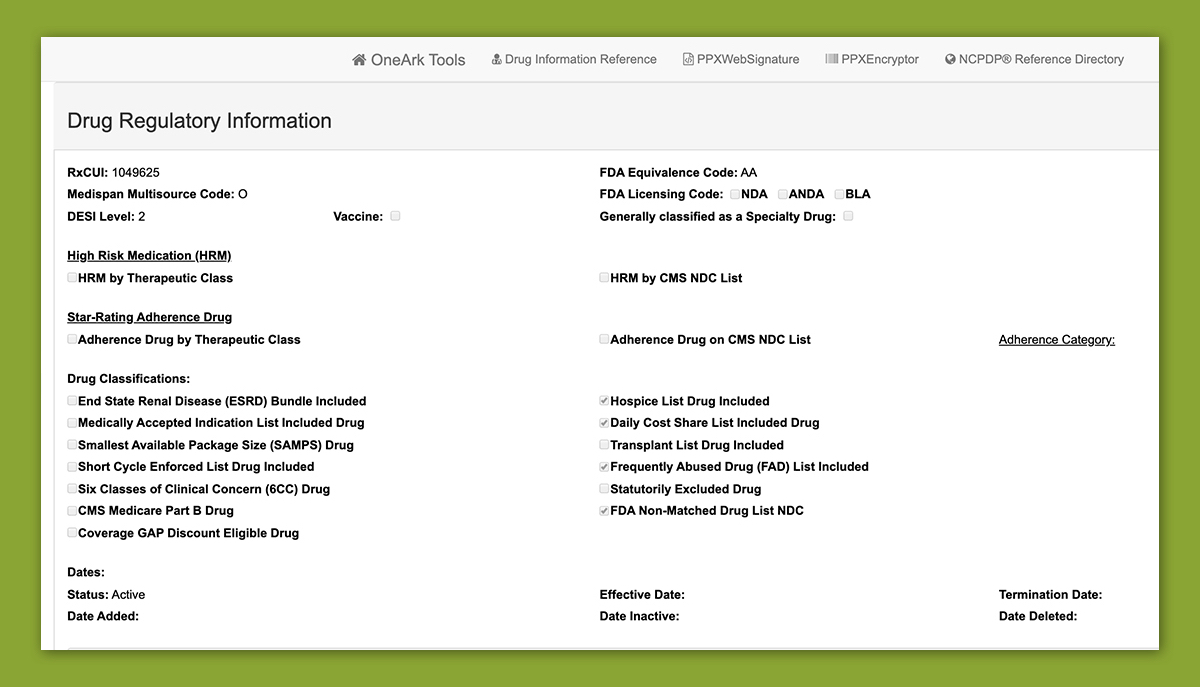 Drug Identifiers Module
This module brings visibility to main Medicare processes within our system that are essential to proper Medicare Part D claims adjudication. This module lists specific drugs that constitute key regulatory requirements in the Medicare Part D Program at an individual drug level.   Plan Sponsors can easily see what criteria or coding was applied to a specific drug even down to the NDC level.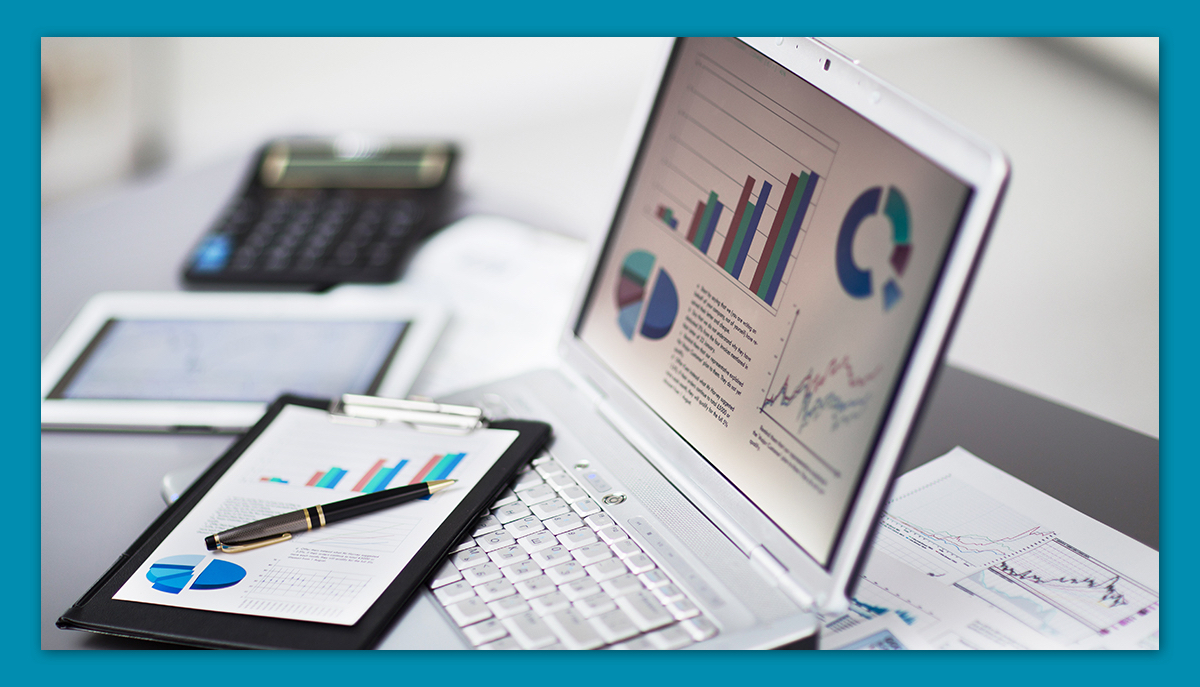 PDE Management Module
Allows Plan Sponsors to monitor the submissions and data associated with PDE files submitted to CMS on behalf of the Plan Sponsors.  This application provides a tool for Plan Sponsors to monitor the submissions and response data associated with all PDE files submitted to CMS.  It creates a tool for plan sponsors to be able to review and work rejected PDEs and monitor the compliance of PDE submissions in a routine and visibly transparent manner.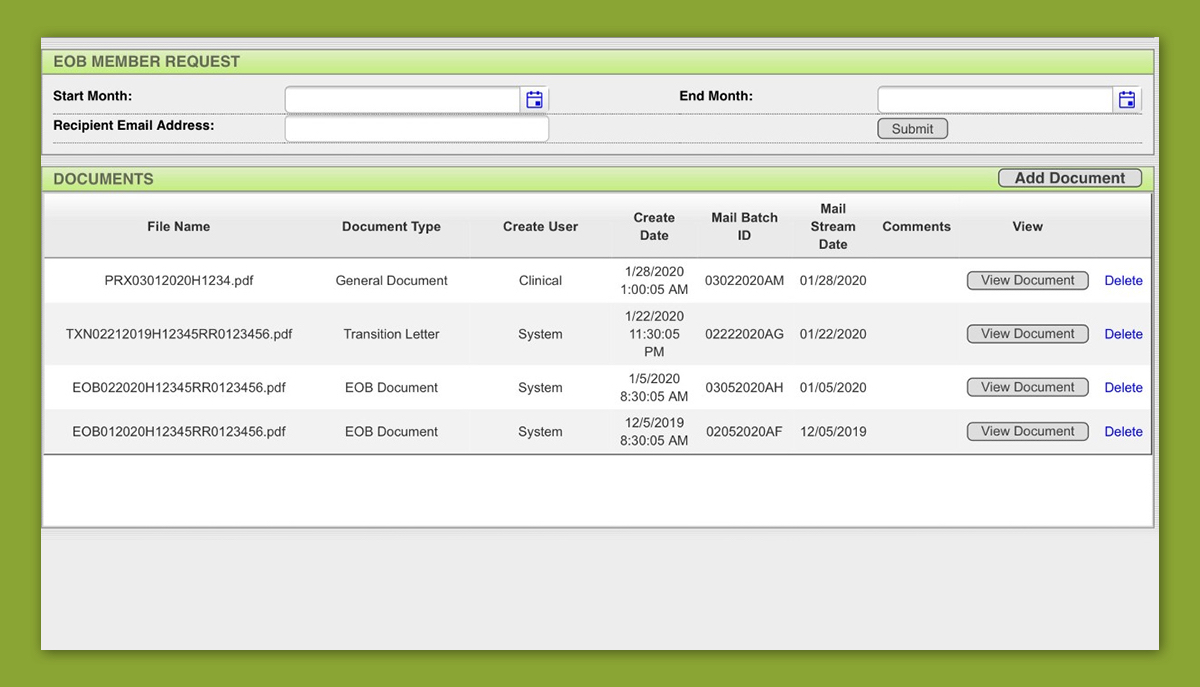 Beneficiary Communications Viewer
This online tool for Call Center and Plan Sponsor representatives allows for the easy retrieval and viewing of Member Communication materials such as Explanation of Benefits Reports (EOBs), Transition letters and many other letters that Plan Sponsors may choose to delegate to PharmPix to manage.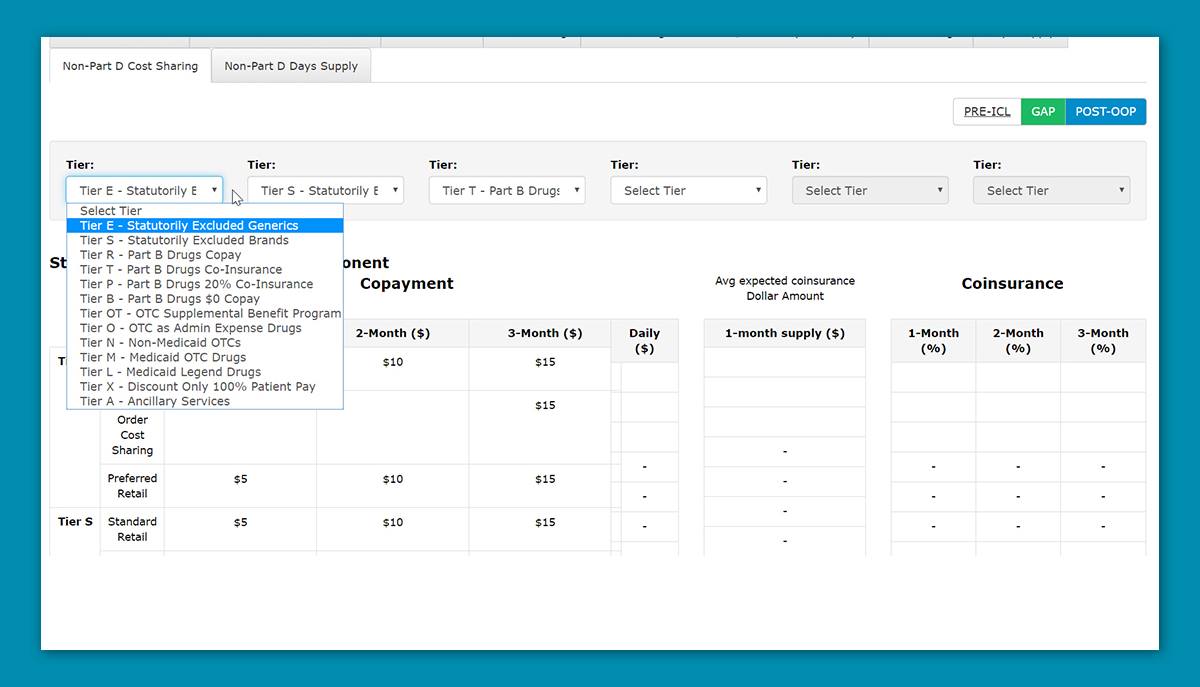 Part B and Supplemental Benefits Claims Processing
The OneArk™ processing system is designed to identify and process Part B and Supplemental Benefit drugs. Part B drugs can be reported and separately tracked from Part D drugs. The OneArk™ edits can notify pharmacies of Part B eligible claims. OneArk™ can also track maximum out-of-pocket and shared accumulators for Part B claims. OneArk™ also supports coordination of benefit services for the portion of Medicare B drugs not covered by CMS — through the OneArk™ platform, PharmPix can program the supplemental wrap to pick up the difference minus copayment.
Transition Fills for Retail and Level of Change
PharmPix provides support for transition of care benefits required by CMS including level of care change. The OneArk™ Transition program provides the claims processing edits and overrides that meet CMS expectations as well as provide plan sponsors with the trust and assurance that the program is processing as expected. Plan Sponsors have flexibility and administrative enhanced choices for administration to ensure optimal compliance with the OneArk™ system.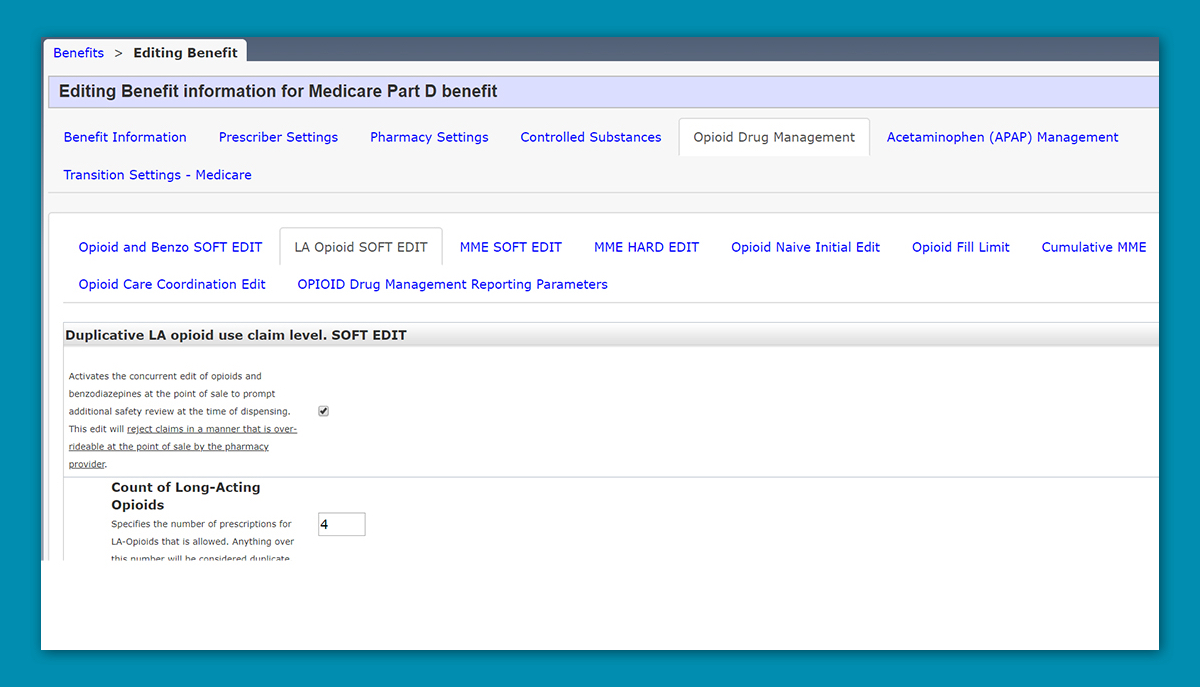 Comprehensive Utilization Management Edits for Opioid and Acetaminophen Safety
PharmPix provides a robust and flexible administration system that allows Medicare Plan Sponsors the flexibility and ease of administration to have a multi-pronged approach to overutilization of opioid program and safety management. The OneArk™ system is designed to give plan sponsors the ability to administer their program exactly as CMS recommended in their Best Practices and other guidance memos or to have the flexibility to add their own controls and edits. Plan Sponsors have the flexibility to customize their Care Coordination edits for Morphine Milligram Equivalents (MME)s, program criteria and many other edits such as Hard and Soft edits for MME at the point of claim or cumulative look-backs with inclusion or exclusion criteria to edits that review for concurrent opioid and benzodiazepine and duplicative long-acting therapies to edits for initial opioid fills. PharmPix knows that the challenges facing the opioid epidemic require an individualized and customizable approach and we give you all the tools to tailor your program to make the best impact for quality of care.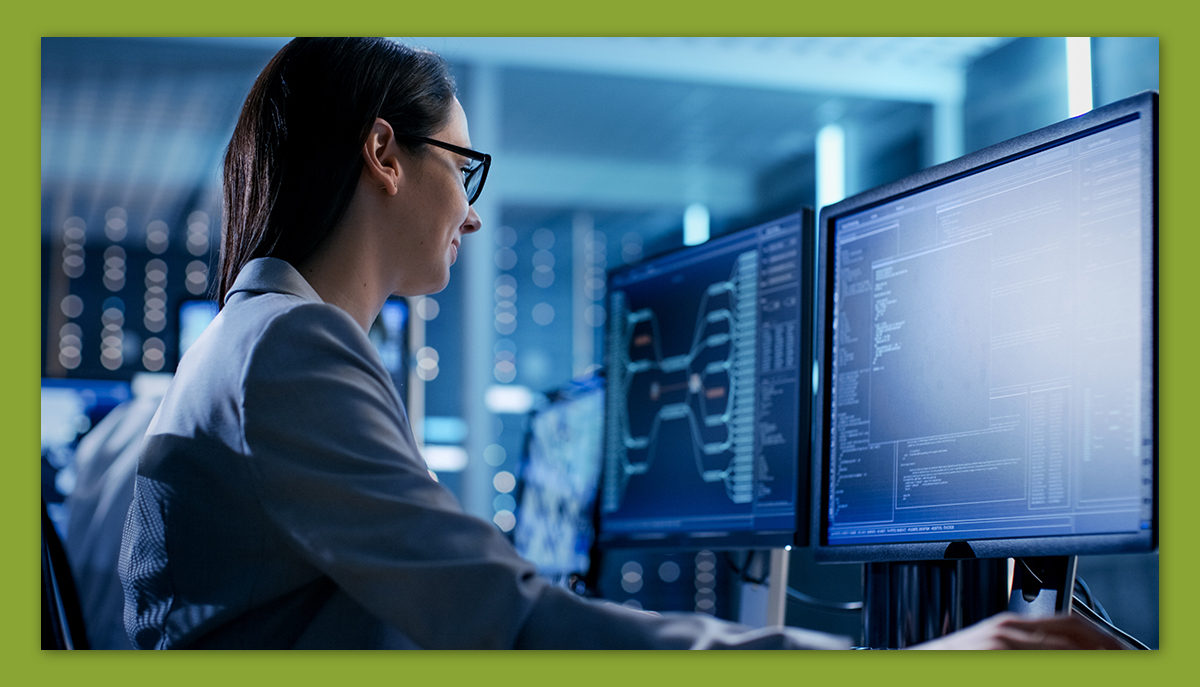 Systematic routine REAL-TIME monitoring with Ark Alerts
The ArkAlert system real time resolution and monitoring to key rejections that require timely follow-up such as physician reject, high dollar claims rejections and Part D vs B rejections.    ArkAlert system eases the Plan Sponsor daily reject monitoring and over-sight requirements by providing organized and effective monitoring and review procedures and screens.
With a specific Regulatory Compliance team, we have been able to employ a focused approach to guidance review and interpretation. Our primary objective is to maintain compliance and to assure our customers that they are well supported. Compliance focus was built into our model. PharmPix offers comprehensive support for audits to ensure audit-readiness for Plan Sponsors. PharmPix provides visibility into systems and processes as well as access to data feeds to ensure that Medicare Part D  Sponsors have all the tools at their fingertips for continuous monitoring and oversight of delegated functions. Whether navigating CMS requirements to start a new program, or refining a strategy to significantly expand a plan's footprint, clients nationwide trust PharmPix as an adviser at every stage of the plan lifecycle.
We also have the following modules that are essential from a regulatory
standpoint to process a Medicare Part D claim.
Providers and Contract Management (PACMAN)
This module provides Medicare Part D Plan Sponsors critical information on Pharmacy Providers as well as Prescribers. Part D Plan sponsors have access to verify the application of Exclusion and Preclusion lists to both Pharmacies and Prescribers to ensure accurate Medicare Part D claims processing along with several other pieces of information required for credentialing and directory information.
Customers and Benefit Management (CUBE)
The partnership and commitment of PharmPix to Medicare Part D Plan Sponsors is highlighted in our very robust CUBE Module. We have removed the difficulty of mapping the benefit that is filed with CMS in your Plan Benefit Package (PBP) to traditional PBM system configuration settings. PharmPix has created an automated module that mimics the annual CMS Part D BID process screens and has replicated the exact PBP filings into our system for claims administration. This means there is a direct application without interpretation as to how your benefits are being administered in our system with exactly how you filed and intended the benefit to be administered.
Beneficiaries and Claims Management (BACMAN)
This is where beneficiaries information specific to Medicare Part D resides, including coverage, General Medicare Information, Member Benefit Information and Medicare Part D Accumulators among other items. PharmPix has made it easy for Plan Sponsors to transfer Medicare eligibility files to our system for proper claims adjudication. PharmPix ensures that all critical eligibility information such as: Coordination of Benefits, Medicare as Secondary Payor, End Stage Renal Disease, Hospice, Transplant, Part A effective Dates, and many of key eligibility features are embedded within our processes.
Everything you should expect
from your Medicare Part D partner, and more.
We invite you to continue to explore PharmPix and all that we have to offer to support Medicare Part D plans from an operational and compliance standpoint.
Just take a closer look. PharmPix provides the VISIBLE solution to managing your Part D Program.
Make PharmPix
your PBM today!