High Level of Customization
Challenge: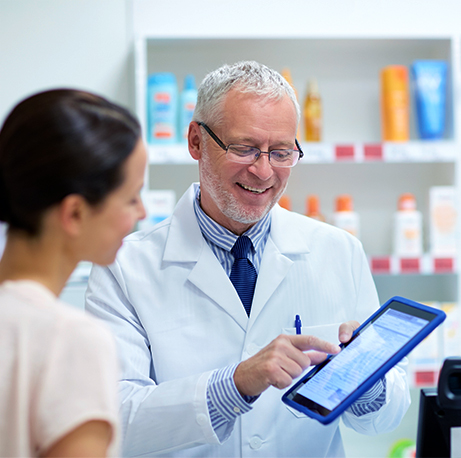 This client, the local universal worker's compensation organization in Puerto Rico, identified the need for a front-end pharmacy system for its 20 internal pharmacies that would provide adequate dispensation and inventory records and controls, and a PBM component to deploy clinical, quality, and utilization management tools. The project's specifications called for a very high level of customization, way beyond the normal pharmacy benefits administration.
How We Build It:
Eligibility
Handling and/or generating ad-hoc, incident-based eligibility at the point of service
Consolidating multiple cases into a single patient record
Centralizing all patient information received from different pharmacies and other internal and external systems and providers to maintain an up-to-date patient profile
Providing for various patient identifiers including case number, patient name and address, date of birth, SSN, as available to avoid patient identification mistakes
Integration
Fully integrating the front-end pharmacy system with the PBM to create a seamless environment
Including hospital inpatient pharmacy dispensation, including IV fluids and solutions into the full cycle, from pharmacy front-end through the PBM approval processes
Integrating inpatient and outpatient drug history
Integrating all existing provider/prescriber, pharmacist and pharmacy technician records including credentials and expiration dates
Customization
Deploying all tools necessary to manage drug purchases, inventory control, distribution logistic, utilization and fraud, waste and abuse controls
Providing capabilities to coordinate benefits for those claimants with employer-sponsored health plans, avoiding further duplication of drug system capable of keeping only one medication record for the same patient with multiple case numbers as well as one medication record for out-patient and in-patient environments
Front-end pharmacy able to integrate with the PBM eligibility system to be able to adjudicate pharmacy claims as soon as the member is eligible
Only one central network system for all the pharmacies to prevent duplicate member records and duplicity of pharmacy services
The front-end pharmacy system had to be the same for out-patient and in-patient records, thus improving the continuity of pharmacy services when members transition from the hospital to the community allowing for an accurate medication reconciliation between settings
System administers drug purchases, inventory control, distribution logistic, utilization controls and  fraud, waste and abuse controls
End Result:
Through PharmPix's PBM services, the client is now able to coordinate pharmacy benefits with the Puerto Rico employers it serves. This successful implementation was completed in just 7 months.